Ambassador Evan J. Paki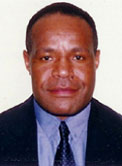 Evan Jeremy Paki was appointed Ambassador of Papua New Guinea (PNG) to the United States of America in March 2003. He concurrently serves as PNG's High Commissioner to Canada and Ambassador to Mexico.
During Evan's tenure in Washington, some of his Embassy's achievements and priorities include the following: enhancing his country's relations with the United States and Canada across a variety of areas; persuading former President Bill Clinton to visit PNG in December 2006 (where the 42nd American president launched the William Jefferson Clinton Foundation's program to partner with the PNG Government against HIV/AIDS); developing partnerships with several North American foundations, universities, museums, public service entities and other non-profit organizations in connection with various development programs and initiatives in PNG. Evan is also the founding chairman of the Pacific Islands Ambassadors Group in Washington DC, a diplomatic group that seeks to highlight the unique interests and concerns of the 14 Pacific Island nations.
Prior to his appointment, Evan worked as a banking and finance lawyer at Baker & McKenzie, a U.S.-based global law firm, at the firm's offices in Sydney Australia, following a brief stint at the Multilateral Investment Guarantee Agency, a member of The World Bank Group, based in Washington, DC. Evan also practised law with a firm in Port Moresby PNG, where he was a lawyer/consultant to North American companies and prospective investors with interests in PNG's mining and petroleum sectors. He had also served as an advisor on mineral, oil and gas taxation issues within the PNG Internal Revenue Commission. He also volunteered as a visiting law lecturer at the University of PNG School of Law (where he had earned his initial law degree with honors in 1996).
He is a member of several educational, public service and other nonprofit organizations, including the Rotary Club of Washington DC, Harvard Club of Washington DC, the Harvard Alumni Association, and the Fulbright Association (where he has served on the international Selection Committee for the J. William Fulbright Prize for International Understanding, which honors individuals who have made extraordinary contributions toward promoting greater understanding amongst peoples and cultures; past recipients of the Fulbright Prize include former presidents Nelson Mandela, Bill Clinton and Jimmy Carter).
Evan holds a Master of Laws (LLM) degree from Harvard Law School, where he was a Fulbright Scholar; he also studied at the John F. Kennedy School of Government at Harvard University and the International Law Institute in Washington, DC. (While at Harvard, he was a member of a 7-member Harvard International Law Society delegation that was chosen to represent the Law School on a study tour of the European Union in March 1998.)
E-mail the Ambassador