Special Interests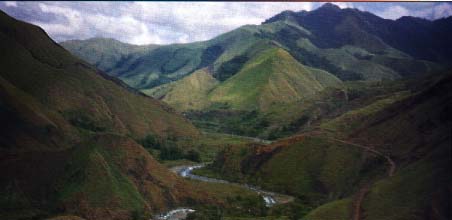 When a pastime becomes a pursuit, when the time, the money and the opportunity present themselves to indulge in such pleasures, Papua New Guinea can offer a diversity of culture and physical activities unattainable and unequalled anywhere else in the world.
Its' mountains, valleys, rivers and islands, untouched by commercial development, provide unlimited adventure and excitement for the special interest visitor.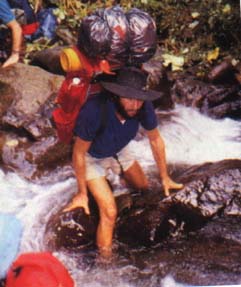 Diving enthusiasts around the world keep coming back for what they describe as the ultimate diving experience. Fishermen, always looking for a bigger challenge, are never disappointed. Reef waters, rivers and estuaries abound with prize catches of tuna, marlin, mackerel, black bass and barramundi.
Papua New Guinea is a bush walker's bliss. There are hundreds of tracks traversing the country, the most famous being the Kokoda Trail, the scene of the bloodiest confrontations of the Pacific campaign of World War 2. Climb the highest mountain, Kayak in Madang, cycle in New Ireland, explore caves in Kundiawa.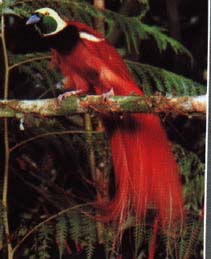 If you are batty about birds, PNG is the place to be. Over 700 species of feathered fliers flutter across our island including 38 of the 43 known species of the exotic Bird of Paradise. There are numerous other birds of distinction including the cassowary Pigeon which is the size of a turkey. Parrots of Kaleidoscopic colours dot our towering trees.
Not all the colours of the rainbow have been reserved for the birds as there is an unlimited range of hues and shades to be seen in our 2000 orchid species and countless magnificent butterflies including the world's largest, the queen Alexandra's Birdwing.
There are treasures of unusual artefacts, museums, galleries and war cemeteries for the historian and collector.
Whatever the pursuit, we guarantee the experience of doing it in PNG will be fascinating and rewarding.
Tourism Promotion Authority
PO Box 1291, Port Moresby 121, NCD
Papua New Guinea
Telephone:(675) 320 0211
Facsimile: (675) 320 0223


Botanical
Bird Watching
Culture
Trekking
Cycling
Canoe/Kayaking
Golf
Climbing
Diving
Fishing
For bookings, consult the specific activities on the data sheet.
NATIONAL PARKS AND BOTANICAL GARDENS
CENTRAL PROVINCE & PORT MORESBY
NATIONAL CAPITAL BOTANICAL GARDENS

Waigani
Open 9.00am. to 3.00pm. Monday to Friday and by appointment on weekends.
Currently undergoing extensive renovation and expansion, the National Botanical Gardens has the largest orchids collection in the southern hemisphere. It is estimated that there are over 3,000 species unique to Papua New Guinea, with many new and unidentified orchid species still found in lowland and highland areas still being explored.
The orchid collection at the Botanical Gardens is never out of flower. The peak flowering season in Papua New Guinea is between the months of December to March.
The Orchid House is laid out in the shape of Papua New Guinea, the idea being to walk through the different provinces of the country looking at the orchids and plants unique to the province.
Raised timber walkways lead through rainforest areas to picnic area and an animal and bird sanctuary.
VARIRATA NATIONAL PARK
Sogeri, Central Province
A thirty minute drive into the hills behind Port Moresby, the park was established for the conversation of natural plant communities and animals in the wild and the protection of scenic area and the Koiari Culture.
The park facilitates research and education and has recreational areas including a Welcome Haus, BBQ areas with picnic tables and shelters, toilets, walking tracks, overnight lodges, camp grounds, and a traditional Koiari tree house.
MOITAKA WILDLIFE SANCTUARY
Moitaka, NCD
Situated near Jacksons airport on the outskirts of Port Moresby, the sanctuary houses a mini zoo with native birds and animals. It has a research and education facility for the study of crocodiles and was established for the protection of endangered species of wildlife in captivity.
There is an information centre and outdoor recreation facilities. The public are able to view crocodiles being fed at 3.00pm. every Friday.
NAMANATABU HISTORIC RESERVE
Central Province
Established for the preservation of the military design of the area's landscaping and other significant historical relics.
A mule track, the only means of access through the reserve up to Hombrum Bluff is maintained.
HORSESHOE REEF MARINE PARK
Port Moresby
Established for the conservation of rare marine habitat found only in Horseshoe Reef. Research, education and recreational facilities.
KOKODA TRAIL
Central/Oro
National Park status has been given to the Kokoda track for the preservation and protection of this historical 90 kilometre track. See separate data sheet for more information.
EASTERN HIGHLANDS PROVINCE
MT GAHAVISUKA
Goroka
Established as a National Park for the conservation of montane species of mountain orchids and rhododendrons in the natural habitat. There are walking tracks to the summit of the mountain.
EAST SEPIK PROVINCE
CAPE WOM INTERNATIONAL MEMORIAL PARK
Wewak
Cape Wom was the site of the Japanese surrender on 13th September, 1945. A memorial park has been established to preserve the remnants of the Japanese troops who died there. The Park is used for educational and research purposes and has provisions for outdoor education. War relics can be viewed here. There are walking tracks, BBQ shelters, picnic tables and toilet facilities.
MOROBE PROVINCE
McADAM, WAIF
Bulolo/Lae
Established for the protection of the last virgin stand of Arancarta forest. Hoop and Klinki Pine varieties still remain in Bulolo/Wau areas. Used for education and research. There is an outdoor recreation area and scenic walking tracks.
WESTERN HIGHLANDS PROVINCE
BAIYER RIVER SANCTUARY
Mt Hagen
Established in 1968 for the protection in captivity of endangered species of wildlife fauna and to encourage breeding whilst in captivity. Used for research and education. Facilities include an outdoor recreation area, welcome haus, picnic shelters and tables, BBQ, a guest lodge, toilet facilities, library and laboratory.
JIMI VALLEY NATIONAL PARK
Banz
Established in 1986 for the preservation of original forest area.
WEST NEW BRITAIN PROVINCE
TALELE ISLAND
Kimbe
Established in 1973 as a nature reserve for the conservation of land and marine habitat.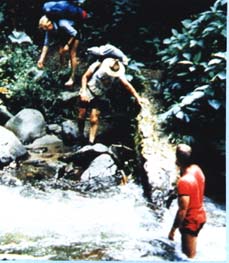 Papua New Guinea has long been a popular destination for trekking, mountain climbing and bushwalking. With largely unspoilt mountains, rivers and forest, as well as having been the focus for attention in World War 2 and the vast cultural and social resources, Papua New Guinea is an ideal place for both the fit trekking enthusiast or weekend bushwalker to visit.
Both full scale, professional standard treks and scenic bush walks of a few hours duration are available. Being largely unserviced by the tourism industry, the trekking, bushwalking and adventure market in Papua New Guinea has great potential. Most centres in PNG can produce treks and bushwalks of undeniable world class quality and beauty.
The Highlands region is famous for its tall mountains with scores of readily accessible peaks. Mt Wilhelm at 4509 metres, is the most popular target for mountain climbers with good road access to Kegsugl village from Kundiawa and National Parks huts for climbers to stay in. Recently the focus of PNG Tourism Promotion Authority sponsored guide training activities, the Mt. Wilhelm region is becoming the focus for individual and guided trekkers. Whilst being accessible, Mt Wilhelm is not easy and guides should be taken to assist climbers.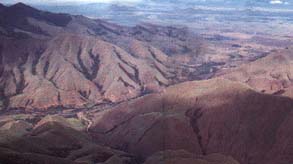 From the central Highlands city of Mt. Hagen, the towering peaks of Mt. Giluwe and Mt. Ialibu (both volcanic plugs), Mt. Hagen, Mt Ongo, Mt Kubor and Mt Kine Kaino Ku are all accessible. The Bismarck and Kubor Range both offer great trekking. Fifteen days hard trekking would see an expedition walk from the highlands town of Kompiam in Enga province to the Yuat River in East Sepik province where canoes would take the expedition on to Angoram. Several tour companies exist in Mt. Hagen which can assist the trekker. Goroka is the centre for several good climbs with Mt. Michael and Mt. Gahavisuka being accessible.
Caving is now receiving international attention with Papua New Guinea possessing several of the deepest cave systems in the world. The Southern Highlands has several high systems and the islands of New Ireland and New Britain also have explored and unexplored cave systems.
Many of the nations towns and government stations could be starting points for mountains climbing expeditions. A glance at the map reveals simply dozens and dozens of mountains in excess of 3,000 metres, many of which could be conquered by fir trekkers in a day or two at most. New Britain has many extinct and active volcanoes worth a climb and the Oro Province is similarly rich in good climbing.
The islands have good potential for long distance coastal treks, with villages being the ideal campsites. The interior of the islands and coastal regions offer largely undisturbed rain forests and cross island treks are possible with small towns being the start and finish points.
The old Bulldog trek and the famous Camel rally has trekked its way through some of the mountain roads. Kokoda and Port Moresby itself can be the jumping off points for the world famous Kokoda Trail trek. In World War 2, the Kokoda Trail was the scene of bitter fighting and the trail is now a national park in itself. The record is less than 24 hours however treks of 5 to 15 days are the most common trek length. The usual trek along the Kokoda Trail is about 10 days with Kokoda being the usual start point. Many trekkers carry their own packs however carrier/guides can be hired in villages along the route. There are number of points along the trail where light aircraft airstrips and regular or chartered flights are available so trekking the Kokoda Trail can be undertaken in sections. Several tour companies offer organised tours along the trail and for safety reasons this is advisable.
Mountain areas near village resorts hold environmental, floral and fauna delights unmatched by other destinations.
Moresby Motu people, in their Hula voyages and the Trobriand Islanders and their Kula voyages have both been emulated by tourist adventurers. The Arowe and Kombe Islanders of New Britain both completed major trans island trading voyages in large sail powered dugout canoes and these would be ideal tourist adventures. The Sepik river with its 1200 kilometres village-studded length has been the scene for many an adventurer purchasing a dugout or two, lashing them together and embarking of lifetime down the broad waters of the swirling Sepik. Of course a motorised canoe trek of the river is also an option with overnight stays in village houses, being a feature. Manus is now a growing centre for the adventure sport of sea Kayaking and trek around the islands is a new adventure for the enthusiast. The world sea Kayaking championships are now being mooted for Manus.
Trekking, with it adherent adventure sports of sailing, biking, caving, motor biking, rallying, bushwalking has an ideal base in Papua New Guinea. With its great forested mountains, remote islands and beaches, long winding river systems and unique cultural activities, the trekker and adventurer can find what they want in Papua New Guinea. The potential is great and the increased in village based tourism will mean the previously inaccessible areas will now be available for the trekker, adventurer or enthusiast to explore at will. Cooperation and collusion with the local landowners and farmers is always recommended. Contact the provincial tourism authority for more information on negotiating with local landowners and guides.

Today the 90 kilometre Kokoda Trail is the most popular recreational walking track in Papua New Guinea. It is a rugged, sometimes hazardous series of steep ridges and muddy gullies - one of the world's true adventure treks.
The Kokoda Trail was originally used by gold miners during the 1890s, walking north from Port Moresby to the goldfields of Yodda and Kokoda. During the Second World War, the trail gained notoriety as the scene of some of the most bitter fighting.
The Japanese had decided to take Port Moresby by a totally unexpected back door assault. The plan was to land on the north coast near Popondetta, travel south to Kokoda and then march up over the central range to Sogeri and down to Port Moresby. Two months later, on 16 September 1942, their supply lines stopped and they withdrew. The final push to retake the beachheads at Buna and Gona saw the Japanese not so much defeated as annihilated. It has been estimated that of their total force of 16,000 men only about 700 survived the fighting, disease and starvation.
The beginning of the track is marked by a memorial stone at Owers' Corner, along the Sogeri Road. Day trippers from Port Moresby can do a one hour walk along the trail towards the Goldie River. Those continuing will climb the "Golden Stairs" over the top of Imita Ridge, not the steepest or highest of the mountain ranges along the trail, but a savage sample of things to come. The trail climbs up the Ioribaiwa Ridge, through abandoned villages. This was the point where the Japanese forces stopped and withdrew, less than 20 kilometres from Port Moresby.
The halfway mark is at the village of Efogi, where the altitude reached brings a crispness to the evening air. From here the track winds through numerous garden plots and open grassland before reaching Mount Bellamy, an eerie place, where boots make sound along the track which is now a tunnel of trees and vines festooned with moss. The moss hangs in streams from dead and living trees with little sunlight to pierce the gloom. Until the war, this was a taboo place and avoided by all.
The campsite is 45 minutes walk from the main trail on the track into the old air drop zone of Myola. Once you stop walking the cold of the altitude is apparent. Humidity is still high which, accompanied by cold and mist, means there is a continuos patter on the leaves of falling droplets of condensation.
Trek through swamp and marshy ground, cross rivers spanned by log bridges and causeways, climb through rugged country, endlessly climbing and plugging, enjoy remarkable panoramas. Stop at villages and get to know the locals, always eager to talk to visitors. The walk ends at the village of Kokoda. Kokoda was defended by the Australians on a tongue like plateau which overlooks the land below. On this plateau are a number of memorials and a small museum.

All travel on the Kokoda Trail is hard, but the journey can be organised into sections which are manageable by persons of good health and average "jogger" fitness.
Tour operators organise eleven day trips along the trail, walking at a moderate pace. Alternatively porters and guides, recommended as necessary, can be organised. Good equipment, comfortable boots, wet weather gear and a medical kit should be carried.
The Australian Government in conjunction with Rotary International have recently completed the construction of aid posts and a medical centre at Kokoda as a memorial to those who died.
The walk is not recommended during the wet season. It can be extremely slippery and the rivers are often too high to cross safely. August and September are the best time to walk. Most trekkers walk from the south to the north.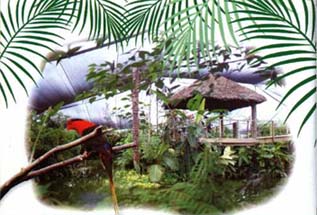 The rugged mountains near Lae are covered in a tangle of rainforest which is home to an assortment of tropical birdlife, butterflies, orchids and creatures which crawl, fly and jump.
The dark and steamy atmosphere of this impenetrable rainforest jungle is recreated at the Rainforest Habitat only nine kilometres from the centre of Lae.
Forest trees, local bananas, tree ferns, flowering orchids and ginger are amongst the 15,000 native and exotic plants found spreading upwards to form a natural protective canopy for the diversity of animals and birdlife below.
Forest wallabies, flying foxes, lizards, green frogs, butterflies and crocodiles add to the large variety of wildlife. The "raunwara" (waterhole) in the centre of the Habitat has species of native fish and turtles and adjoins a swamp where ducks and other waterbirds live.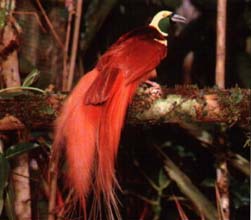 Over thirty species of birdlife, including the magnificent Raggiana Bird of Paradise, Queen Victoria's Crowned Pigeons, hornbills, parrots, brush turkeys, cassowaries and fruit doves can be found. Raised walkways and waterfalls add to the comfort and enjoyment of the jungle walk. Refreshments are served in the cool fragrance of rainforest foliage.

The Rainforest Habitat, situated on the campus of the University of Technology, with an area of more than 3,000 square metres is covered by an eleven metre high shade cloth canopy to create an artificial rainforest environment for the study and preservation of native flora and fauna. It forms part of the Unitech owned insect Farming and Trading Agency (IFTA).

FLORA AND FAUNA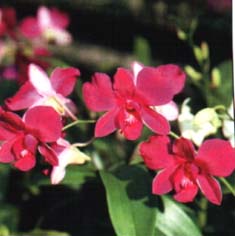 A great percentage of Papua New Guinea's land mass is covered with a dense blanket of rainforest - an exotic tangle of vines, creepers, flowers, plants and trees. Wild orchids blaze against a verdant green background of rainforest canopy. Papua New Guinea has a greater number of orchid species than any country in the world.
Bird life is prolific. The most famous is the Bird of Paradise. Of the 43 known species of Birds of Paradise, 38 are found in Papua New Guinea. These brilliantly coloured birds perform bizarre ritualistic and mating dances and were hunted by early traders for their feathers.
Most animals in Papua New Guinea are marsupials, relatives of those found in Australia.
Although not indigenous to Papua New Guinea, pigs are valuable source of food and an important status symbol among Highlands tribal people. Rusa deer are a more recent arrival, brought into the Indonesian province of Irian Jaya by Dutch colonists, they crossed into the southwest part of the country around Western and Gulf Provinces.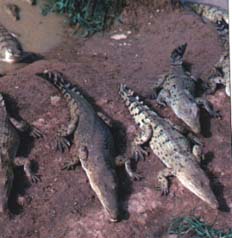 There are about 200 species of reptiles, including thirteen different turtle species and 100 different types of snakes.
Papua New Guinea has a multitude of insects. In 1978 the Insect Farming and Trading Agency, at Bulolo in Morobe Province, was established by the PNG Division of Wildlife to initiate and control the local insect farming industry and further market it overseas. It ensures strict controls of quality and accompanying scientific data. It is the only organisation permitted by the Papua New Guinean Government to farm and trade insects.
Research workers at the IFTA have discovered many new species. Special area of research have included detailed studies of all native birdwing butterflies and a study of the plight and conversation strategies needed to save Queen Alexandra's birdwing, ornithoptera alexandrae, the largest known butterfly in the world, which is found only in Papua New Guinea's Oro Province.
PAPUA NEW GUINEA'S BUTTERFLIES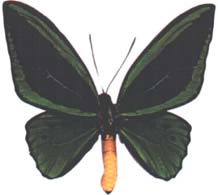 The region of New Guinea is renowned for the beauty, size and variety of its insects and, in particular, its butterflies. Especially well-known among naturalists, entomologists and collectors are the magnificent birdwing butterflies which are only found in this region of the world.

Papua New Guinea is home to more than 700 different species of butterflies. This is more than two times the number of species found in the continent of Europe which is about six times larger than PNG. The reason for this diversity of butterflies and insects in general is the tropical climate and the mountainous topography.


The many mountains valleys and islands not only offer a variety of different habitats but also lead to the evolution of many new species which are peculiar to Papua New Guinea and are sometimes only found in a restricted area. One example are many of the Delias species which are only found on certain mountain peaks, another is the largest butterfly of the world, Queen Alexandra's birdwing (ornithoptera alexandrae) which is confined to the lowland rainforest of the Popondetta region in Oro Province.

ew Guinea's insect fauna include the Hercules Moth (Coscinocera Hercules) which is the largest moth in the world, or one of the largest stick insects in the world, Eurycnema Goliath.

The caterpillars of butterflies feed on many specific foodplants, some of them poisonous to large animals like the milkweeds or the alkaloid-rich Aristolochia vines which represent the food plants of the birdwing caterpillars. Storage of these poisons provides these caterpillars with protection against predators and sometimes even makes the adult butterflies distasteful to birds. Many of these butterflies have bright aposematic colouration to warn potential predators of their bitter taste.

Palatable species sometimes copy these colourations to trick predators and gain some protection for themselves (like the blue day-flying moth Alcides agathyrus w which is though to copy the swallowtail Papilio laglaizei) whereas other species (like the leaf-like coloured Doleschallia) prefer a cryptic appearance to escape their enemies.

Although different species of butterflies have developed various strategies to escape their many predators and parasites or to adapt to changing conditions of their environment, their survival is easily threatened by destruction of their natural habitats, in particular the rainforests, through human activities. An example is the rare Queen Alexandra's birdwing which is endangered by logging operations and agricultural clearing of the rainforest. Fortunately this species is now the subject of a conservation programme which hopefully will ensure its survival.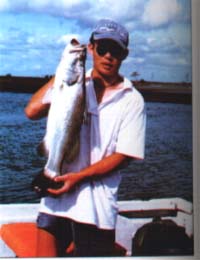 From the rivers or from the oceans, Papua New Guinea has the ultimate fishing experience. The coastal waters around the Madang, East and West New Britain and New Ireland abound in blue and black marlin, sailfish and dogtooth tuna.
In the waterways near Kandrian, freshwater fisherman can take on the famous Papuan Black and Spot Tail Bass found only in Papua New Guinea. If barramundi is your game, stay at the remote Bensbach Lodge near the border of Irian Jaya. There's saratogo and ox eye herring to play with too.
For your fishing trip contact the following operators and fishing clubs:
MADANG PROVINCE
REEL FISH CHARTERS
Contact: Brett Middleton
MV "Talio"
PO Box 521
Madang 511, Madang Province
Papua New Guinea
Telephone: (675) 853 7496
Fax: (675) 853 7468
MV "Talio" maintains state of the art equipment, from 8kg to 60kg tackle and electronics including radar, GPS and top of the range sounder. It has maximum speed of 29 knots. With so much fishing within range, on any given day anglers can enjoy a variety of world class sport.
"Talio" owner/skipper Brett Middleton, who cut his teeth in legendary Cairns big game fishing, further enhances your strike chances with his expert local knowledge.
Coastal currents can run at 5 knots, carrying sailfish, yellowfin, mahi mahi, mackerel and many more species to within 100 yards of the shore. Sailfish in particular hunt in packs here, in number and sizes seldom before seen in the South Pacific.
On remote reefs you can fish for dogtooth tuna, spanish makerel, giant trevally, coral trout, and more sailfish. There's a wealth of options all year round. The area is a paradise for the fly, light, medium and heavy tackle angler.
For the ultimate Papua New Guinea fishing experience, combine a "Talio" Madang adventure with a trip to Arrjim Island Bass Fishing Camp on the remote south coast of West New Britain. Internationally renowned for its black and spottail bass. These mighty opponents are the strongest freshwater species in the world and they offer the supreme challenge for the plug caster.
WESTERN PROVINCE
BENSBACH WILDLIFE LODGE
PO Box 6940, Boroko 111, NCD
via Daru, Western Province
Contact: John Ramshaw
Telephone: 323 4467
Facsimile: 323 4467
Wildlife/ Birdwatching Packages
Fishing Packages
The packages allow for 4 persons per boat. Royalty on fish kept is 60 toea per kg (whole fish). Guides will clean, fillet and pack fish. As Bensbach carries a limited amount of gear it is recommended that fishermen bring their own equipment.
Bensbach encourages tag and release. The season runs from June/July to October/November. Barramundi is the principal catch, with Saragota and Salmon a distant second and third.
Hunting
8 hunters, maximum at any one time. Royalty on deer is K2.00/head, bag limit is five per hunter. Guns and ammunition are NOT provided by Bensbach.
For overseas clients the lodge will arrange a licence and Customs approval to import ammunition and a firearm. The form for a licence has to be filled out by the hunter and signed at a local police station and, along with 2 photographs, sent to the lodge. The licence and customs approval is sent to the hunter/group leader. Allow up to a month for licence and customs approval. Hand guns are not allowed.
Prices are per person and include accommodation, meals, laundry and boat/guides. Drinks are extra. Land transport is an extra and availability depends on the weather.
For charters, the pilot's daily rate is half, provided the pilot does not partake in the groups activities. Children under 12 are half price.
Royalties are paid to the village people within the Tonda Wildlife Reserve.
Payment can be made in cash or travellers cheque only as, due to the remoteness of the Lodge, processing of credit cards will takes up to four months.
The weather is tropical - days 30 to 34 degrees Celcius, night 20 to 24 degrees Celcius. Wet season is December to March.
Casual, light clothing offering good covering is the most comfortable. Don't forget hats, sun-glasses and suntan lotions/creams.
M.B.A. fly to Daru from Port Moresby and Kiunga Monday to Saturday. Air Niugini fly Port Moresby to Daru Monday, Wednesday and Saturday. The Bensbach strip is closed at present but Sunwest Aviation will fly charters to Weam, a strip two hours upstream from the lodge, from Daru. Other charters can be organised from a number of operators in most major centres in Papua New Guinea and Cairns, Australia.
For further information, contact the Tourism Promotion Authority.
FISHING CHARTERS
MOROBE PROVINCE
HUON GULF CHARTERS
PO Box 1104, Lae 411, Morobe Province
Contact: Jan Hardie
Telephone: (675) 472 2745
Facsimile: (675) 472 6175
MOROBE SEA CHARTERS
PO Box 245, Lae 411, Morobe Province
Contact: Fred Cook
Telephone: (675) 472 3647
Facsimile: (675) 472 5788

NATIONAL CAPITAL DISTRICT
PORT MORESBY GAME FISHING CLUB GANTRY
PO Box 5028, Boroko 111, NCD
Contact: Ken Weber
Telephone: 321 1391
BOROKO SPORTS FISHING CLUB
PO Box 5280, Boroko 111, NCD
Contact: Rebecca Geoghegan
Telephone: (675) 323 5513
Facsimile: (675) 323 5535